ATVing and Snowmobiling in Oneida County
Snowmobile trails will not open before December 1. No concrete dates are set, but typically trails open the second or third week in December. Thanks to the Oneida County Forestry Department for their information.
ATVing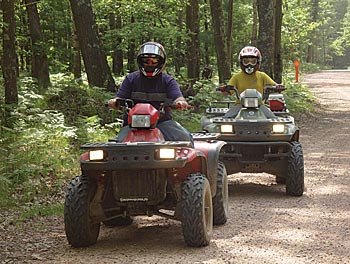 Oneida County's ATV trails loop through some of the wildest country in the Northwoods. ATVing is a great way to appreciate the rugged beauty of the forests and gives you a chance to see wildlife. Oneida County's great lodging and amenities make it an ideal destination for ATVing vacations and getaways.
Oneida County's ATV trails are located in the southwestern part of the county. The Lynne/Little Rice Lake ATV trail system offers 16 miles of woodland trails, 23 miles of connecting road routes and 76 miles of open town roads. You'll find plenty of stops along the way, as well, making it a great destination for group and family rides.
Snowmobiling
Oneida County is one of the top snowmobiling destinations in North America. A trail system consisting of almost a thousand miles of top-notch trails runs throughout the county and connects with thousands more miles of trails stretching across northern Wisconsin and into the Upper Peninsula of Michigan.
The communities of Oneida County have been serving snowmobilers for decades. Snowmobilers return year after year for the great snowfall and fantastic trails, as well as numerous resorts, restaurants and businesses that cater to snowmobilers.
Area snowmobile clubs work hard to maintain the area's exceptional trails. These clubs put out quality maps of the snowmobile trails in the area. To request a snowmobile trail map, please email us at info@oneidacountywi.com or call 1-800-236-3006.